Theme: "ACADEMIC PSYCHIATRY 2.0: RECONNECT - REDESIGN - RELAUNCH"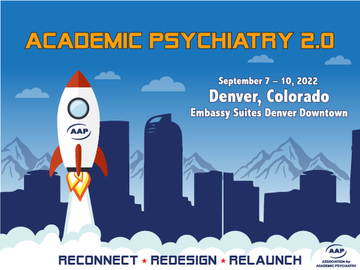 The past two years have seen tremendous upheaval in the world, and our field of academic psychiatry has been no exception. Our lives and our jobs have been turned upside down, and the field of medicine has been stretched to the breaking point. As we begin to venture out and gather again, the topic of conversation often turns to the hope that we well get back to "normal." But the truth is that "normal" was far from perfect.  Many in our field have been encumbered by overt and systemic inequalities based on gender, race, religion, sexual orientation, or ethnicity.  Disparities in health care have created a system that delivers variable care to its patients and moral injury to its providers. Climate change and political destabilization contribute to violence, trauma, PTSD, and a variety of mental health issues. And as eager as we all are to move beyond the world of the Pandemic, there are some educational and networking tools that have emerged during this time that will remain useful as we move forward.
Instead of striving for "normal," we have the opportunity to make changes to the system as we re-emerge from isolation. The 2022 AAP Annual Meeting will take place IN PERSON in Denver, Colorado, September 7-10, 2022. Fittingly, Academic Psychiatry 2.0 occurs with our second meeting in the Mile-High City. As we gather in person for the first time in 2 years, we will be able to Reconnect with friends and colleagues. The focus of our workshops will be the Redesign of systems to address systemic inequality, health care disparities, and the impact of climate change on mental health. We will also look at ways to continue to use the new skills and educational tools we have honed during the pandemic as we all prepare to Relaunch face-to-face clinical and teaching services. Join us as we begin the process of transforming our field into a better, stronger vehicle for service and education.
~ Lewis Krain, MD  2021-2022 AAP President
Meeting Highlights & Information
General Information
Our Objective
AAP's Annual Meeting is designed for psychiatrists who are interested in learning about academic development, teaching psychiatry, and research on psychiatry education. The meeting is filled with interactive workshops designed to teach a wide array of academic topics. "How To" sessions teach academic and leadership development, use of technology in teaching, resident and faculty teacher development, and a host of other topics in resident and medical student education. The meeting is a wonderful way to interact with academic psychiatrists and psychiatry leaders in a casual and inviting setting filled with accessible workshops, informal sharing, and academic mentoring. It is an ideal venue for residents and fellows to develop an interest in education, junior faculty to launch an education-based career, and senior faculty to expand their skills and meet colleagues from across the country.
Theme: "Academic Psychiatry 2.0: Reconnect, Redesign, Relaunch"
~ Lewis Krain, MD  2021-22 AAP President
Annual Meeting Dates & Locations
Future Meetings
2022: September 7-10, Embassy Suites Denver Downtown, Denver, CO
2023: September 6-9, Pinnacle Hotel Harbourfront, Vancouver, British Columbia, Canada