Theme: "ACADEMIC PSYCHIATRY: Discovery and the Next Generation"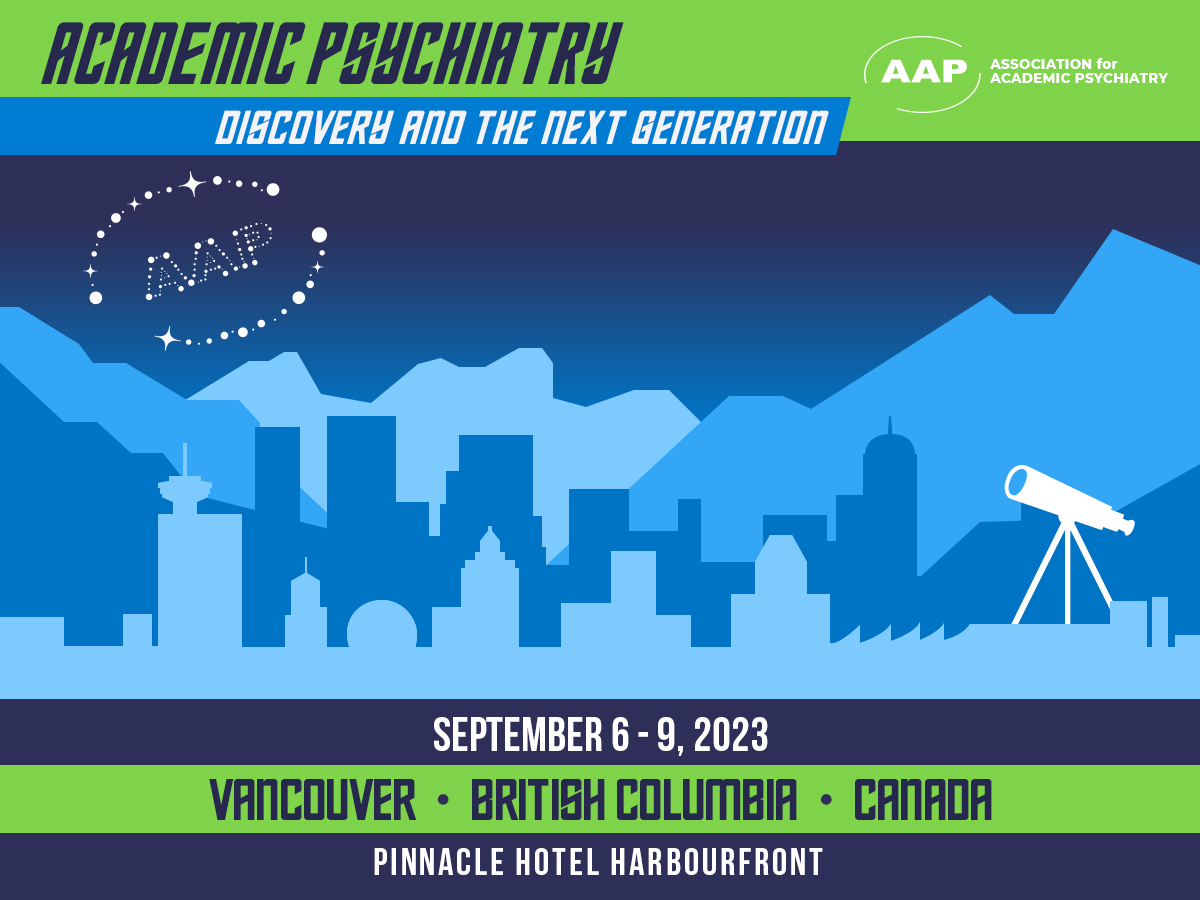 A global pandemic, a fluctuating and inequitable economy, divisive politics, structural racism, and war have continued to increase the anxiety, insecurity, and sense of chaos in our patients, our trainees, and ourselves. The masks, lockdowns, and lack of social gathering have reaffirmed the importance of connection, whether face-to-face or virtual. Erikson stated, "life doesn't make any sense without interdependence. We need each other, and the sooner we learn that, the better for all of us."
How do we deliberately and purposefully promote this in our careers and lives? Erikson did give us the answer: our existence and growth create "a generational cycle, irrevocably binding each generation to those that gave it life and to those for whose life it is responsible". He also reminded us that we have an "active responsibility for nurturing the next generations."
As academic psychiatrists, we are privileged to foster the development and education of trainees, junior faculty, and colleagues—the ultimate goal being to provide improved care to those who struggle with their mental health. For many (or the majority) of us, the teaching, lecturing, and mentoring of the next generation of physicians and psychiatrists is our prime directive, and the most fulfilling part of our career voyage.
Opportunities abound to encourage this sense of relationship and generativity, whether in undergraduate or graduate medical education, faculty development, leadership, health policy, or in the care of our patients. This year's meeting will continue AAP's ongoing mission, to advance psychiatric education through collaboration and mentorship, to boldly go forward in this enterprise of discovery together.
~ Sean Blitzstein, MD  2022-2023 AAP President
Meeting Highlights & Information
General Information
Our Objective
AAP's Annual Meeting is designed for psychiatrists who are interested in learning about academic development, teaching psychiatry, and research on psychiatry education. The meeting is filled with interactive workshops designed to teach a wide array of academic topics. "How To" sessions teach academic and leadership development, use of technology in teaching, resident and faculty teacher development, and a host of other topics in resident and medical student education. The meeting is a wonderful way to interact with academic psychiatrists and psychiatry leaders in a casual and inviting setting filled with accessible workshops, informal sharing, and academic mentoring. It is an ideal venue for residents and fellows to develop an interest in education, junior faculty to launch an education-based career, and senior faculty to expand their skills and meet colleagues from across the country.
Theme: "ACADEMIC PSYCHIATRY: Discovery and the Next Generation"
~ Sean Blitzstein, MD  2022-23 AAP President
Annual Meeting Dates & Locations
Future Meetings
2023: September 6-9, Pinnacle Hotel Harbourfront, Vancouver, British Columbia, Canada
2024: September 11-14, The Mayflower Hotel, Washington DC